Duolingo Language Learning App
Advantage
Easy to use
Combination of images, sounds, and text
Simple and friendly interface
Email reminder
Abundant learning resources
Can be re-learned many times
Duolingo - The Best Way To Learn A Language
The slogan of the Duolingo app: "learn a foreign language for free in just 5 minutes a day" impresses you? Are you curious if you can be good at a foreign language in just 5 minutes a day? If you want to know objectively and honestly about the effectiveness of Duolingo then this article is for you!
Duolingo has turned boring foreign language knowledge in textbooks into a game. Indeed, the language learning methods in the Duolingo app are great for all ages, but you'll need to spend more time with Duolingo to see progress. We think 2-4 hours is a more reasonable amount of time to speak a foreign language fluently than 5 minutes a day. Learning a new language is simple and fun with an interactive and user-friendly website. Duolingo uses the device's microphone and speakers that the user uses to teach speaking and understanding, in addition to text. Here is a detailed review of Duolingo.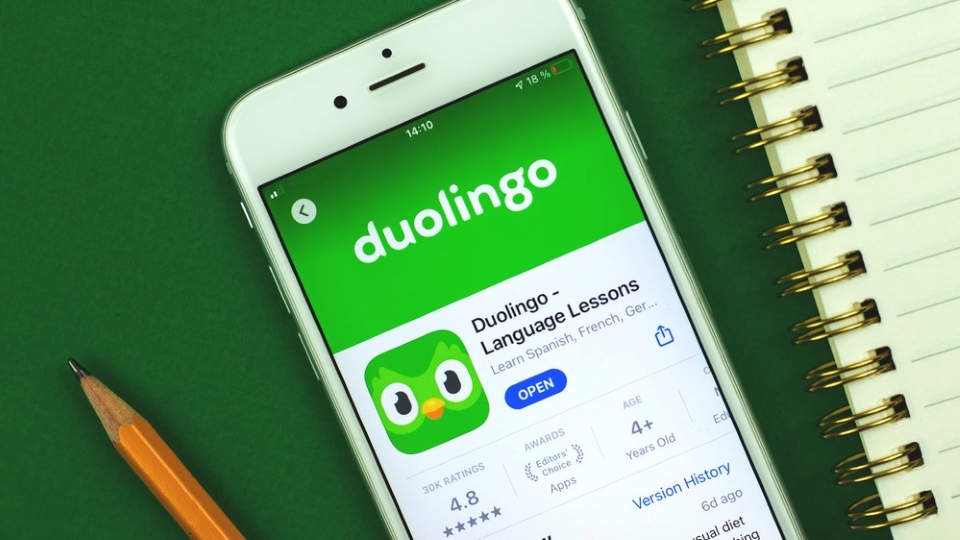 Duolingo Language Learning App with friendly and simple interface
Duolingo is a versatile app
Languages
To see which languages ​​you can learn based on your native language, visit the official Duolingo website. For example, Spanish speakers can only learn English, French, Italian, Portuguese, German, Russian, Catalan, Guarani, Esperanto, Swedish. Meanwhile, English speakers can learn virtually all of the languages
​​Duolingo offers Chinese, Czech, Danish, Dutch, English, Esperanto, French, German, Turkish Greek, Hawaiian, Hebrew, Valyrian, Hindi, Hungarian, Indonesian, Irish, Italian, Japanese, Klingon, Korean, Navajo, Norwegian, Ba Lan, Portuguese Portuguese, Romanian, Russian, Spanish, Swahili, Swedish, Turkish, Ukrainian, Vietnamese and Welsh. However, the app will continue to grow and allow people to learn the language they want in their native language.
Topics
Duolingo offers dozens of lesson sets, including basics and phrases. Learning topics are very close to us such as colors, food, family, animals, health,...
How Duolingo works
Images, text, and sound are the building blocks of Duolingo lessons. To test your speaking and pronunciation skills you can speak into the microphone. Take each lesson in order from easy to difficult, or take a combined knowledge test of all the lessons, whichever you prefer. You can start at a slightly more advanced level if you've completed all of those lessons and passed a test. Duolingo benefits both those who need to improve their language skills and those who are completely new to language learning thanks to its test option tool.
In addition, small stories in the language you are learning and a quiz about the story can help you check how much you have understood. These stories are available in Spanish, French, German, and Portuguese. More stories in other languages ​​may be added in the future.
You can chat about Duolingo in general on the Duolingo forum to practice language skills with other Duolingo members and discuss lessons. It is recommended that you create a user account to track your learning progress, although Duolingo does not require this. Duolingo also has free mobile apps on iOS, Android, and Windows Phone operating systems so that users can learn anytime, anywhere at their convenience.
User thoughts of Duolingo
Duolingo's website and apps both have a super user-friendly interface. This is great because learning a language is already complicated. Many people like keyboard shortcuts because they allow them to quickly submit answers, move through lists, play sounds, select multiple choice answers, and more. Duolingo is considered one of the best tools for learning a new language. The combination of sounds, images, and text help to improve concentration during learning. It is arguably much more useful than traditional language learning resources like textbooks.
What do we appreciate about the Duolingo Plus app?
Coloring for the lesson
We're impressed with Duolingo that it has a mode to change the colors of the lessons you've learned. The closer the time you use the course to the current time, the darker the color of that course will be, and vice versa. This interface reminds you that the characteristic of language competence is "use or lose". If you don't review the lessons regularly, the knowledge will fade over time. Interesting and true, isn't it?
Owning a strong muscle requires your exercise process to take place regularly and continuously. Even if you have gained the muscle you want, that muscle will be lost and returned to your original stout body if you stop exercising and eating comfortably. So is language. Once you don't practice regularly and leave it alone, it will slowly fade away. Duolingo can help you review what you've learned. Take advantage of this valuable feature.
Regular email reminder
The best feature that Duolingo brings to users is probably the email that reminds you to study every day. We strongly recommend choosing daily reminders from Duolingo. Duolingo will always send an email to your inbox reminding you that you need to review what you've learned and not miss a day. Not only does it help you quickly learn the desired language, but it also pulls you back into a state of continuous learning.
How we tested
After testing Duolingo on a group of users in different languages for 1 week, we got an important result. That is, the memory ability of all test participants improved significantly. Duolingo helped them remember more than 90% of what was in the course. Most of them have memorized all the words and phrases.
However, learning a foreign language is not simply just memorizing it, you must understand it. People with a good memory can easily memorize entire dictionaries: Spanish dictionaries, French dictionaries, Arabic dictionaries, etc. But even if they memorize the whole book, they can easily memorize the whole dictionary. dictionary, they still can't speak the language. Because learning a language is not just about memorizing it.
We would recommend Duolingo as a secondary learning aid. It's great for 10-20 minutes of free time while you're on the bus on your way home. It will help you learn a little more about the language you are learning, more or less.
Do we recommend Duolingo?
Through the review, you probably already know our answer to the question of whether the Duolingo language learning app is good. You can indeed learn a foreign language with Duolingo but it doesn't take only 5 minutes, it will take more than 5 minutes a day for you to learn a foreign language. You should plan to study for at least 2 to 4 hours a day to quickly conquer a foreign language. And not only memorizing thanks to Duolingo, but you also need to read more books or watch movies, and a variety of study materials to be fluent in a new language.